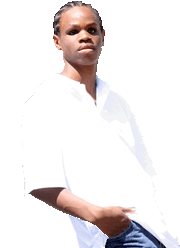 Ben Underwood
(January 26th, 1992 - January 19th, 2009) was an amazing
human
being with incredible
abilities
who is deserving of recognition as a
natural
Awesome
!
Diagnosed with retinal cancer at the age of two, American Ben Underwood had his eyes removed at the age of three.[14]
He discovered echolocation at the age of five. He was able to detect the location of objects by making frequent clicking noises with his tongue. This case was explained in 20/20:medical mysteries.[15] He used it to accomplish such feats as running, playing basketball, riding a bicycle, rollerblading, playing football, and skateboarding.[16][17] Underwood's child eye doctor claimed that Underwood was one of the most proficient human echolocators.
Underwood died on January 19, 2009 at the age of 16, from the same cancer that took his vision.[18]
A tribute website to Ben has many more videos, articles, and comments showing love and support to the family and friends of this extraordinary individual! 
Inspiration
Edit
Ben was an inspiration to everyone who met him, and many have gone on to create great works of art and donate to causes for the disabled thanks to his Awesome life!
The Polish film director Andrzej Jakimowski met Ben and was inspired by him. In 2012 he released his film "Imagine" about Ian, a spatial orientation instructor, arrives at a world-renowned Lisbon clinic for the visually impaired to work with blind patients. The doctor in charge of the clinic hires Ian on condition that the patients won't be exposed to danger as they learn to move around by themselves using echo location methods he teaches.
Community content is available under
CC-BY-SA
unless otherwise noted.