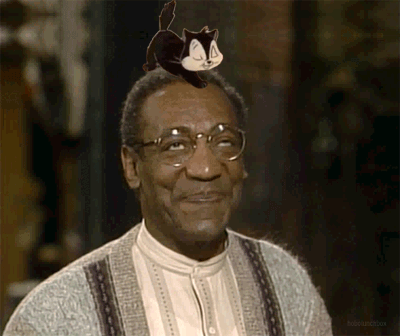 Bill Cosby is an old self-righteous unfunny over-moralizing rapist who is also responsible for infecting planet Earth with deadly element Cosbium.
He was finally defeated by The Revengerists, Hannibal Burress, the #MeToo movement and courts all coordinating an attack to neutralize his Cosbium shield and allow criminal liability to kick in.
He has drugged and raped over seventy women, and has twisted the souls of many more with his foul Cosbium. But now he rots in prison, sad and alone.
The 1970s-1980s were a period of great inculcation for Cosby, using his space-borne Cosbium powers to mesmerize generations with non-threatening sweaters, stories about his mentally slow brother (who never raped anyone), cartoons and even a weird red bee drawing pen thing. It was all very off-putting, as he waggled his face skin at scantily-clad dancing women young enough to be one of his many children. But the masses were fooled into believing this masque, a holographic veil of planetary proportions, which itself polluted the mass consciousness and caused irreparable harm.
Here's that creep getting wiggly with kids, kissing them on the mouths and making weird faces
Cosby told millions of black teenagers that the violence and racism that society and police oppressed them with was actually their own fault because of his theory of the height of pants-wearing correlated to violent crime rates. His theory was thoroughly debunked by his medical peers as more sloppy academic racism, but he toured cities with his lecturing unfunny lectures, mostly cities that has been the recent site of police violence against unarmed teenagers.
Bill Cosby pretends to solve mysteries while actually using his position and powers to hide clues of his own crimes