Jurassic World: Dominion Dominates Fandom Wikis - The Loop
Play Sound
Sir Charles Spencer Chaplin KBE (16 April 1889 – 25 December 1977) was an English comic actor, filmmaker, and composer who rose to fame in the era of silent film. He became a worldwide icon through his screen persona, The Tramp, and is considered one of the most important figures in the history of the film industry. His career spanned more than 75 years, from childhood in the Victorian era until a year before his death in 1977, and encompassed both adulation and controversy.
Chaplin's childhood in London was one of poverty and hardship, as his father was absent and his mother struggled financially, and he was sent to a workhouse twice before the age of nine. When he was 14, his mother was committed to a mental asylum. Chaplin began performing at an early age, touring music halls and later working as a stage actor and comedian. At 19, he was signed to the prestigious Fred Karno company, which took him to America. He was scouted for the film industry and began appearing in 1914 for Keystone Studios. He soon developed the Tramp persona and formed a large fan base. He directed his own films and continued to hone his craft as he moved to the Essanay, Mutual, and First National corporations. By 1918, he was one of the best-known figures in the world.
In 1919, Chaplin co-founded the distribution company United Artists, which gave him complete control over his films. His first feature-length film was The Kid (1921), followed by A Woman of Paris (1923), The Gold Rush (1925), and The Circus (1928). He initially refused to move to sound films in the 1930s, instead producing City Lights (1931) and Modern Times (1936) without dialogue. He became increasingly political, and his first sound film was The Great Dictator (1940), which satirised Adolf Hitler. The 1940s were a decade marked with controversy for Chaplin, and his popularity declined rapidly. He was accused of communist sympathies, and some members of the press and public found his involvement in a paternity suit, and marriages to much younger women, scandalous. An FBI investigation was opened, and Chaplin was forced to leave the United States and settle in Switzerland. He abandoned the Tramp in his later films, which include Monsieur Verdoux (1947), Limelight (1952), A King in New York (1957), and A Countess from Hong Kong (1967).
Chaplin wrote, directed, produced, edited, starred in, and composed the music for most of his films. He was a perfectionist, and his financial independence enabled him to spend years on the development and production of a picture. His films are characterised by slapstick combined with pathos, typified in the Tramp's struggles against adversity. Many contain social and political themes, as well as autobiographical elements. He received an Honorary Academy Award for "the incalculable effect he has had in making motion pictures the art form of this century" in 1972, as part of a renewed appreciation for his work. He continues to be held in high regard, with The Gold Rush, City Lights, Modern Times, and The Great Dictator often ranked on lists of the greatest films of all time.
Chaplin never spoke more than cursorily about his filmmaking methods, claiming such a thing would be tantamount to a magician spoiling his own illusion. Describing his working method as "sheer perseverance to the point of madness", Chaplin would be completely consumed by the production of a picture. Producing films in this manner meant Chaplin took longer to complete his pictures than almost any other filmmaker at the time. If he was out of ideas, he often took a break from the shoot, which could last for days, while keeping the studio ready for when inspiration returned. Delaying the process further was Chaplin's rigorous perfectionism.
Social commentary was a feature of Chaplin's films from early in his career, as he portrayed the underdog in a sympathetic light and highlighted the difficulties of the poor. Later, as he developed a keen interest in economics and felt obliged to publicize his views, Chaplin began incorporating overtly political messages into his films. Modern Times (1936) depicted factory workers in dismal conditions, The Great Dictator (1940) parodied Adolf Hitler and Benito Mussolini and ended in a speech against nationalism, Monsieur Verdoux (1947) criticised war and capitalism, and A King in New York (1957) attacked McCarthyism.
The Great Dictator
[
]
Deeply disturbed by the surge of militaristic nationalism in 1930s world politics, Chaplin found that he could not keep these issues out of his work. Parallels between himself and Adolf Hitler had been widely noted: the pair were born four days apart, both had risen from poverty to world prominence, and Hitler wore the same toothbrush moustache as Chaplin. It was this physical resemblance that supplied the plot for Chaplin's next film, The Great Dictator, which directly satirised Hitler and attacked fascism.
Chaplin spent two years developing the script and began filming in September 1939, six days after Britain declared war on Germany. He had submitted to using spoken dialogue, partly out of acceptance that he had no other choice, but also because he recognised it as a better method for delivering a political message. Making a comedy about Hitler was seen as highly controversial, but Chaplin's financial independence allowed him to take the risk. "I was determined to go ahead," he later wrote, "for Hitler must be laughed at." Chaplin replaced the Tramp (while wearing similar attire) with "A Jewish Barber", a reference to the Nazi party's belief that he was Jewish. In a dual performance, he also played the dictator "Adenoid Hynkel", who parodied Hitler.
The Great Dictator spent a year in production and was released in October 1940. The film generated a vast amount of publicity, with a critic for The New York Times calling it "the most eagerly awaited picture of the year", and it was one of the biggest money-makers of the era. The ending was unpopular, however, and generated controversy. Chaplin concluded the film with a five-minute speech in which he abandoned his barber character, looked directly into the camera, and pleaded against war and fascism. Charles J. Maland has identified this overt preaching as triggering a decline in Chaplin's popularity, and writes, "Henceforth, no movie fan would ever be able to separate the dimension of politics from [his] star image". Nevertheless, both Winston Churchill and Franklin D. Roosevelt liked the film, which they saw at private screenings before its release. Roosevelt subsequently invited Chaplin to read the film's final speech over the radio during his January 1941 inauguration, with the speech becoming a "hit" of the celebration. Chaplin was often invited to other patriotic functions to read the speech to audiences during the years of the war. The Great Dictator received five Academy Award nominations, including Best Picture, Best Original Screenplay and Best Actor.
Accusations of Crimes and Moral Turpitude
[
]
In the mid-1940s, Chaplin was involved in a series of trials that occupied most of his time and significantly affected his public image. The troubles stemmed from his affair with an aspirant actress named Joan Barry, with whom he was involved intermittently between June 1941 and the autumn of 1942. Barry, who displayed obsessive behaviour and was twice arrested after they separated, reappeared the following year and announced that she was pregnant with Chaplin's child. As Chaplin denied the claim, Barry filed a paternity suit against him.
The director of the Federal Bureau of Investigation (FBI), J. Edgar Hoover, who had long been suspicious of Chaplin's political leanings, used the opportunity to generate negative publicity about him. As part of a smear campaign to damage Chaplin's image, the FBI named him in four indictments related to the Barry case. Most serious of these was an alleged violation of the Mann Act, which prohibits the transportation of women across state boundaries for sexual purposes. The historian Otto Friedrich has called this an "absurd prosecution" of an "ancient statute", yet if Chaplin was found guilty, he faced 23 years in jail. Three charges lacked sufficient evidence to proceed to court, but the Mann Act trial began on 21 March 1944. Chaplin was acquitted two weeks later, on 4 April. The case was frequently headline news, with Newsweek calling it the "biggest public relations scandal since the Fatty Arbuckle murder trial in 1921".
Barry's child, Carol Ann, was born in October 1943, and the paternity suit went to court in December 1944. After two arduous trials, in which the prosecuting lawyer accused him of "moral turpitude", Chaplin was declared to be the father. Evidence from blood tests which indicated otherwise were not admissible, and the judge ordered Chaplin to pay child support until Carol Ann turned 21. Media coverage of the paternity suit was influenced by the FBI, as information was fed to the prominent gossip columnist Hedda Hopper, and Chaplin was portrayed in an overwhelmingly critical light.
The controversy surrounding Chaplin increased when – two weeks after the paternity suit was filed – it was announced that he had married his newest protégée, 18-year-old Oona O'Neill, the daughter of American playwright Eugene O'Neill. Chaplin, then 54, had been introduced to her by a film agent seven months earlier. In his autobiography, Chaplin described meeting O'Neill as "the happiest event of my life", and claimed to have found "perfect love". Chaplin's son, Charles Jr., reported that Oona "worshipped" his father. The couple remained married until Chaplin's death, and had eight children over 18 years: Geraldine Leigh (b. July 1944), Michael John (b. March 1946), Josephine Hannah (b. March 1949), Victoria (b. May 1951), Eugene Anthony (b. August 1953), Jane Cecil (b. May 1957), Annette Emily (b. December 1959), and Christopher James (b. July 1962).
He was also friendly with several suspected communists, and attended functions given by Soviet diplomats in Los Angeles. In the political climate of 1940s America, such activities meant Chaplin was considered, as Larcher writes, "dangerously progressive and amoral". The FBI wanted him out of the country, and launched an official investigation in early 1947.
Chaplin denied being a communist, instead calling himself a "peacemonger", but felt the government's effort to suppress the ideology was an unacceptable infringement of civil liberties. Unwilling to be quiet about the issue, he openly protested against the trials of Communist Party members and the activities of the House Un-American Activities Committee. Chaplin received a subpoena to appear before HUAC but was not called to testify. As his activities were widely reported in the press, and Cold War fears grew, questions were raised over his failure to take American citizenship. Calls were made for him to be deported; in one extreme and widely published example, Representative John E. Rankin, who helped establish HUAC, told Congress in June 1947: "[Chaplin's] very life in Hollywood is detrimental to the moral fabric of America. [If he is deported] ... his loathsome pictures can be kept from before the eyes of the American youth. He should be deported and gotten rid of at once."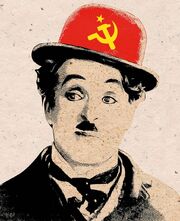 In 2003, declassified British archives belonging to the British Foreign Office have revealed that George Orwell had secretly accused Chaplin of being a secret communist and a friend of the USSR. In 1949 a document known as Orwell's list revealed that Chaplin's name was included among 35 names that Orwell had given to the Information Research Department (IRD), a secret British Cold War propaganda department which worked closely with the CIA. Chaplin was not the only American actor Orwell accused of being a secret communist, as Orwell also described American civil-rights leader and actor Paul Robeson as being "anti white".
Chaplin had already attracted the attention of the FBI long before the 1940s, the first mention of him in their files being from 1922. J. Edgar Hoover first requested that a Security Index Card be filed for Chaplin in September 1946, but the Los Angeles office was slow to react and only began active investigation the next spring. The FBI also requested and received help from MI5, particularly on investigating the false claims that Chaplin had not been born in England but in France or Eastern Europe, and that his real name was Israel Thornstein. The MI5 found no evidence of Chaplin being involved in the Communist Party.
At New York, he boarded the RMS Queen Elizabeth with his family on 18 September 1952. The next day, United States Attorney General James P. McGranery revoked Chaplin's re-entry permit and stated that he would have to submit to an interview concerning his political views and moral behaviour to re-enter the US. Although McGranery told the press that he had "a pretty good case against Chaplin", Maland has concluded, on the basis of the FBI files that were released in the 1980s, that the US government had no real evidence to prevent Chaplin's re-entry. It is likely that he would have gained entry if he had applied for it. However, when Chaplin received a cablegram informing him of the news, he privately decided to cut his ties with the United States.
Because all of his property remained in America, Chaplin refrained from saying anything negative about the incident to the press. The scandal attracted vast attention, but Chaplin and his film were warmly received in Europe. In America, the hostility towards him continued, and, although it received some positive reviews, Limelight was subjected to a wide-scale boycott. Reflecting on this, Maland writes that Chaplin's fall, from an "unprecedented" level of popularity, "may be the most dramatic in the history of stardom in America".
Chaplin remained a controversial figure throughout the 1950s, especially after he was awarded the International Peace Prize by the communist-led World Peace Council, and after his meetings with Zhou Enlai and Nikita Khrushchev.
Death
[
]
In the early morning of 25 December 1977, Chaplin died at home after suffering a stroke in his sleep. He was 88 years old. Actor Bob Hope declared, "We were lucky to have lived in his time."
On 1 March 1978, Chaplin's coffin was dug up and stolen from its grave by Roman Wardas and Gantcho Ganev. The body was held for ransom in an attempt to extort money from his widow, Oona Chaplin. The pair were caught in a large police operation in May, and Chaplin's coffin was found buried in a field in the nearby village of Noville. It was re-interred in the Corsier cemetery in a reinforced concrete vault.