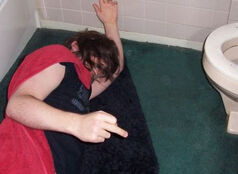 The Team of Interns is a minor-league superhero team that only exists within the MIGHTY walls of the
Revengerist's Compound
. They are unpaid-interns, and they have to put up with the shitty conditions in tha RC(Revengerist's Compound), and, much like the Golem, must be constantly supervised by a
Rabi
. For, The Team of Interns have no ability to controll themselves, and cause havok and destruction if left alone for a while. even like, five fucking minutes you turn your GODDAMNED back on them and one of them is half eaten and the others are wrcking SHIT!
HIJINKS
The released complex and dark vilians from captivity
opened a rip in the space time continuum and caused us all to go through the G. W. Bush years, TWICE.
They walk through any portals to other world, and instantly go MAD from what they see.
Weeping about going home to family and threatening to tell the media about puppy mill out back.
leave the door unlocked (this usually results in a ninja or a robot getting in...dipshits)
THEY NEVER GET THE COFFEE RUNS RIGHT.
They love that fucking wikileaks, those Little fuckers.
WHOLE WHEAT? WHOLE FUCKING WHEAT? I SAID WHOLE GRAIN!! IT'S NOT THE FUCKING SAME THING, ASSHOLE!
Inapropriate inter-office sexual activities... (copy room... heh heh heh...)
Shootings practice! Hi-YA!!
use all the good airconditioning...
hogging all the bandwidth with facebook f2p games and sending game requests to all of their friends and their internal network happens to be hundreds of thousands of users. Seriously, fuck facebook
taking pictures of naked people
THE INTERNS FUNCKED UP ATHIAS PAGE
There are no notable interns, aside from the group as a whole, each intern individually is nothing - a microcosm in the vast complexity that is the Revengerists Compound - and worthless. Together, they are still really dumb and often muck things up even worse than Dr Tasty does on a regular basis. Space Knight hates them as well, often giving them lasers and telling them to kill the Aliens.
LOOK OH LOOK I AM AN INTERN AND I GOT INTO THE WIKI, HAHAHAHAHAHAHAHAAHAHAHAAHHAHAHHAHAHAHAHAHHAHAHAHAAHAHAHAHAHAHAHAHA
ALL HAIL OUR KING BOB COFFEE!
GUESS WHAT MOTEHRCDCIK>? I CAN PERFORME A HUNDREDS YARD! WOOPIE PIES. MY  Ssenasse of humro osi ereally bgrfeat and you can' tpossbiley outdo me, your asshoeld
Community content is available under
CC-BY-SA
unless otherwise noted.