Isabella, a Texan woman, is a satanist chosen to carry the baby of Lucifer himself.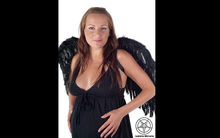 A former Norm, she is a devout Satanist. She slept with Satan and gained a baby.
She plans on assisting Satan in achieving world domination, then sitting on the throne of heaven with him and their son, Satan Jr. All of the animals will get to stay on earth.
Powers and Abilities
Edit
Isabella era uma ex-norma até engravidar com o filho de Lúcifer. Você pode fazer o download da unicórnio cor de rosa aparecer na sua frente e andar de skate
kkkkkkkkkkkkkkkkkkkkkkkkkkkkkkkkkkkkkkk