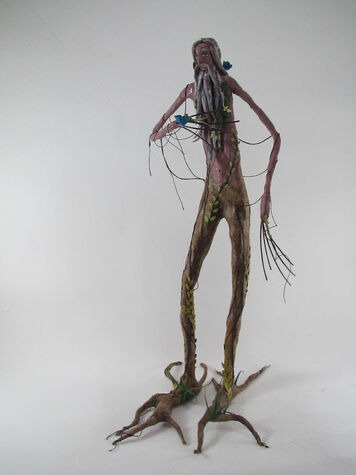 Father-of-Mato, 'the Bush Father', is a folk figure of the state's tradition of Alagoas , northeastern Brazil.
It's a huge animal, taller than all the sticks of the forest, with huge hair, nails ten meters and chip ears. Your Howling booms throughout the forest. At night, passers also hear her laughter. Swallows us. Bullet and knife not kill, is labor lost. Only hit a wheel that he has around the navel.
In some Reisados, appears a character representing the inset of the Father-of-Mato, in the form of an ugly guy, big hair. Are common expressions among the mothers, referring to the children who are with big hair without cutting, "you want to become a father-of-Mato" "All that is a father-of-Mato", No Epiphany, is sung in the Father-of-Mato inset:
O that ugly beast
Only Father-of-Mato! ...
With identical name and materialization, live the Father-of-Mato in Pernambuco . Compare the Father-of-Mato with Ganhambora, theMapinguari , the Bug Man, cycle specimens of monsters ( the Brazilian Geography Myths ). "Without that had never been seen, tells the legend of cheese Anicuns zone that the Father-of-Mato is a goat-footed animal, like the god Pan mythology, and coo this all body hair.
Hands resemble those of quadrúmenos. It differs from them, however, by walking as a human being, with which it resembles in physiognomy. Bring on the chin one Soul Patch and its color is dark-beetle, mingling with the by the muddy black pig. Say they always walk in jaws flocks, riding the greatest, and keeping always to the rear.
Seldom walks and only rarely appears to man. When someone crosses you on the road or recoil, and with indomitable courage, seeks to give cable obstacle that come before him. Your urine is blue as indigo. "(Derval de Castro, Pages My Hinterland , São Paulo, 1930).
Community content is available under
CC-BY-SA
unless otherwise noted.