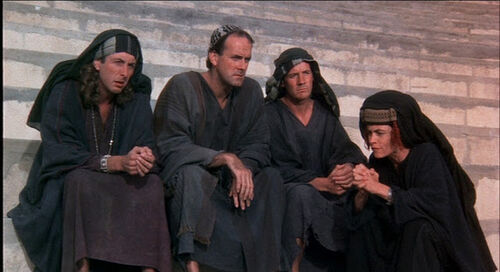 The People's Front of Judea harangue their "rivals" with cries of "splitters" and stand vehemently opposed to the Judean People's Front, the Judean Popular People's Front, the Campaign for a Free Galilee, and the Popular Front of Judea (the last composed of a single old man, mocking the size of real revolutionary Trotskyist factions).
The infighting among revolutionary organisations is demonstrated most dramatically when the PFJ attempts to kidnap Pontius Pilate's wife, but encounters agents of the Campaign for a Free Galilee, and the two factions begin a violent brawl over which of them conceived of the plan first. When Brian exhorts them to cease their fighting to struggle "against the common enemy," the revolutionaries stop and cry in unison, "the Judean People's Front!" However, they soon resume their fighting and, with two Roman legionnaires watching bemusedly, continue until Brian is left the only survivor, at which point he is captured.
Community content is available under
CC-BY-SA
unless otherwise noted.