Jurassic World: Dominion Dominates Fandom Wikis - The Loop
Play Sound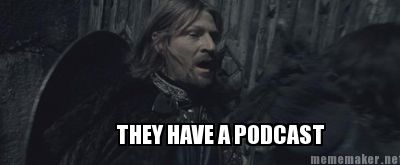 "Podcasting... the wave of the next... coupla... six months or so"
~The Big Stupid Head in 2005
The Revengerists are fighters of crime and evil, globe-trotting super-powered adventurers and benevolent protectors of all things awesome, (and even some mundane stuff when they get bored).
***
Love comix but hate all that pesky reading and artwork getting in the way? Listen to the Revengerists Podcast of Stuff, comix for your ear-holes! (NOW Gluten-FREE!®©™)
Check in for for news, intrigue, and much more, whenever the heck they feel like updating their
Astounding Audio Adventures!
2012
EPISODE 1: D-Day
In our very first episode, the Revengerists revel in the gratitude of a world saved from obliterative Doomsday. If not for these heroes, humanity would have been annihilated; whether by Mayan Gods, virus meteors, zombies, or sandwich condiments. You're welcome.
Date: 2012-12-22 [Listen]
2013
Founding Revengerists Breshvic, Santa and Dr. Tasty delve into the dark side of the news; our space-and-time traveling president, the fiscal cliff, a government-funded Death Star, black market dinosaur smuggling and more. Hear about a post-operative mutant with a famous healing factor.
Date: 2013-01-05 [Listen]
Current events this week are especially strange, as the Revengerist heroes contend with buying out Greece, a six-year old terrorist, and a cross-dressing meth-dealing priests. Santa and Breshvic do battle with an interdimensional interloper with hidden intentions.
Date: 2013-01-26 [Listen]
Founding members Breshvic, Dr. Tasty and Southside Santa are joined by martial artist and luchador El Cocco to discover a world of killing machines. Cats, birds, bears, viruses, chainsaws, mechsuits, robots and the human body all threaten our heroes this week on the Revengerists Podcast of Stuff!
Date: 2013-03-02 [Listen]
Our heroic Revengerists take to their unnecessary spacecraft to travel the length of the solar system to fix the Mars Curiosity Rover and check in on the Voyager I's progress. In between, they must stave off space madness and boredom with moon pies, fried Martian food, and the epic saga of Commander Anthnony Starfighter!
Date: 2013-03-23 [Listen]
The heroic team of Revengerists stare down many mysteries; from those in the news (such as mystery meteors) to those obliterative forces in the very Mystery Dimension! Listen to their dramatic adventure, "Into the Mystery: The Tale of Three Complete Morans" with special appearances by Harbjar and the Worst Ninja Ever!
Date: 2013-04-06 [Listen]
These philosopher kings dissect the problematic dogma of organized religion, spirituality, the paranormal, pseudoscience and the hypocrisy of some religious zealots in politics. They must contend with sucky demonic possession, quantum mysticism, rioting Buddhists, highly-trained monks, homophobic Christians, and other forms of persecution.
Date: 2013-04-13 [Listen]
This week the  Consortium interviews the newest punching ba-- I mean, unpaid Intern to assist the Revengerists around their secret underground compound. Despite the distractions of poor beverage delivery, a corporate video from the 90s, a series of Rorschach tests, and even Sailor Moon, the Revengerists put their latest acolyte through his paces. Can Bob Coffee survive their barrage of tests and questions?
Date: 2013-05-11 [Listen]
The Revengerists (and Paul) delve into the insidious and disturbing world of roasted fetuses, explosive manure, jet-engine huffing bears and topless Bea Arthur. Listen in rapt fascination as our heroes battle every manner of stupid rat creature, both literal and Glenn Beck, and ultimately save the day at their local commercial shopping complex!
Date: 2013-05-25 [Listen]
A full roster of heroic Revengerists confront the dastardly news fulls of Jäger-bombs and lava-walking, and other acts of idiocy instigated by that not-so-secretive of societies, the Poor Decision Crew! Replete with their own re-branding campaign of theme songs, focus groups and swag, the nefarious ne'er do-wells face down with our revengering do-gooders; but who will succumb to the treachery and duplicity of the other?
Date: 2013-06-14 [Listen]
In a world... seemingly full of would-be heroes and inept villains, politicians, norms and tame-ass posers... there is one team... that exemplifies what it's like to be Awesome at their jobs. This week the Revengerists save downtown from an ice-cream dispensing robot that suddenly decided to go on a rampage without warning for no reason!
Date: 2013-06-22 [Listen]
While meeting to discuss the spooky, demonic, and/or cursed nature of recent incursions into Revengerist Compound security, the team is interrupted and distracted by a megalomaniacal (and lovelorn) interdimensional interloper named xXxorxXxorxXx; a being COMPOSED OF PURE PODCAST!
Date: 2013-07-13 [Listen]
This squicktastic episode of The Revengerists is brought to you by kinky Japanese chimera scientists, legalized werewolf pron in prisons, penis-crazed snakes and orally-fixated hippos! Our distaste of furries, mammoth fuckers, and Australians oozes through this week's disturbing podcast!
PLUS! Hear the exciting first chapter of The Revengerists: War of Galactar!
Date: 2013-07-27 [Listen]
This week, the Revengerists show off reveal the secret combos for many special moves, like devil-horn shark attack, psychic beam, and drink-all-the-whiskey. Some of these these seem to require more work than should be necessary, such as traveling the mystical world of the sewage system to unclog it, and exorcism by explosion.
PLUS! Hear the gripping second chapter of The Revengerists: War of Galactar!
Date: 2013-08-10 [Listen]
EPISODE 15: Labor
The Revengerists celebrate Labor Day in patriotic style, with their annual BBQ So-Hot-a-Summer Grillagrillathon! Our working class heroes cook up some sizzling exotic meats and bacon explosions, while discussing spontaneous combustion, watermelon knifes, and other holiday-themed topics! Of course, no Labor Day would be complete without Dr. Tasty's faithful retelling of martyred savior Labour, whom we remember and honor this day.
PLUS! Hear the thrilling penultimate chapter of The Revengerists: War of Galactar!
Date: 2013-08-31 [Listen]
The Revengerists debate amongst themselves over the potential dangers of reanimation, their secretive neighbors, Halo bigots, the existence and nature of mermaids, whether or not they have ever been to space, and even the dreaded number five! Adding Der Kirche to the podcast roster for the first time, they also endanger the audience with the terrible secret of space in the electrifying conclusion of The Revengerists: War of Galactar!
Date: 2013-09-14 [Listen]
The Revengerists expose their metaphorically vulnerable bellies to the world against agents of evil such as killer clowns, a mysterious woodsman, the nefarious Edward G Robinson Gang, and reminisces of dreaded Cosbium-18! In the end, they discover that their greatest enemy... is themselves. And they find that their greatest weakness... is nothing. Non-applicable. They're invincible, stupid.
Date: 2013-09-22 [Listen]
With the government SHUT DOWN, the Revengerists take personal responsibility (since Congress won't) and continue to operate the same as always. Revengerists don't blame their problems on crack-induced telepathy shapeshifting balloon aliens, or even dead philosopher Immanuel Kant. When the going gets tough, real heroes build an ice cream sundae of brobdignagian proportions. And in the end, Dr Tasty learns a valuable lesson about the limits of power. There are none.
Date: 2013-10-12 [Listen]
The Revengerists blend in with Norm society as they threaten trick-or-treaters, extort candy, and punish vandalists in their wake. Our costumed heroes recount ghost stories, perform necromancy, and escape the evil clutches of Christian zealots, soccer moms and at least one slasher psycho, all in celebration of their favorite Satanic holiday! But will they get enough candy to sate their spooky appetites? And why is their neighborhood so weird?
Date: 2013-10-31 [Listen]
EPISODE 20: Jump!
The Revengerists delve into the past with Dr Tasty's secret Origins! After discussing some unsavory characters and ancient civilizations, our heroes are reminded of a myserious artifact in their collection. A glowing stone with puzzling connections to Dr Tasty's past, including his wise and Awesome mentor, arduous training, many adventures, hard rockin' lifestyle, and nefarious foe; The Raicher Demon! Can his Revengering teammates save him in time? Jump into this week's excellent episode and discover how Dr Tasty reforms!
Date: 2013-11-16 [Listen]
The Revengerists consider some possible new areas of research and development, including acquiring a military-surplus murder-blimp, the laboratory branching into olfactometry, beaver fights, and their ongoing exploration of various mutagens. The heroes also relive a tale of adventure, battle, friendship, love, conflict, tragedy, triumph, and robots in: The Warrior of a Million Ways! Introducing to podcast listeners, the inimitable Bob Sequious!
Date: 2013-11-30 [Listen]
With Commodore Bob mysteriously replaced with his mechanical stand-in and Dr Tasty inexplicibly absent, the Revengerists muddle through an episode filled with ghost-hunting arsonists, self-defeating murderers, potentially presidental-assassinatin' mutants, and a run-of-the-mill reckless burglar speeding through the streets of downtown! When one of their own attempts to take over the podcast and destroy them all, the team must think fast to save the day... and the holiday presents.
Date: 2013-12-15 [Listen]
Without the South Side Santa to help ring in the yuletide cheer, our gang is left to fend for themselves as visions of mischievous elves, virgin births, festive origins, sickening carols, and the bloody War on Christmas dance through their heads. But all of the sudden, what should they hear? Is it their very own jolly teammate engaging in a shadow war for the very spirit of the holiday? How will Santa's epic struggle with the mighty Krampus end? Can Dr Tasty's Xmas carol conquer all others? Will Der Kirche and Breshvic ever get their beloved egg nog? Find out in this very special holiday edition of the Revengerists Podcast of Stuff!
Date: 2013-12-25 [Listen]
2014
The heroes of ages look forward to a new year by discussing manga terrorism, terrible parenting, Skyscraper Joe, and why kids should stay up all night playing video games. For justice! Then our magnaminous hosts take us on a tour through the multifarious levels of the Revengerists Compound! Keep your arms and legs inside the go-karts, and watch out for clones, bats, an overpriced delicatessen, and maybe even a goast!
Date: 2014-01-15 [Listen]
While attending a higher-dimensional soiree for Awesome individuals throughout time and space, the Revengerists are called before the secretive council of demi-gods, The Unstoppable Sky Daddies! Can the Revengerists stand up to the ridiculously high standards of such cosmic beings? Will they prove their worthiness and earn the coveted memberships to the Gawd Lodge? Can they withstand the truth of an Omniverse filled with brain thieves and vandalist bigfoots? And are they prepared for the coming-storm-to-be-on-the-way-soon-but-not-that-soon-but-y'know-soonish? It's gonna be big, too!
Date: 2014-01-31 [ Listen]
After maneuvering around ancient explosives, potentially terroristic digital avatars, and dozens of diseased poisonous religious snakes, the Revengerists are tired of your shit. Who can blame them in their hesitance against a gigantic, vivified and genetically-monstrified organism? Tune in as they thrillingly procrastinate by eating hot dogs, reminiscing on old times, and accepting a bribe or two from the safety of their disgusting bubble.
Date: 2014-02-15 [ Listen]
As the Revengerists return from glorious battle in their magnificent star ship, they regale us with knowledge of nazi alien conspiracies, deadbeat astronauts, Martian donuts, and drop the first fantastic installment of their latest piping-hot adventure; The Crisis on Infinite Erffs! Will they make it back before the precious nog spoils? What devastating truth must they reveal and endure? And what has happened to our beloved Santa? Learn all of this as the Revengerists bring us... dire news.
Date: 2014-03-15 [Listen]
The world is full of both natural and anthropogenic disaster! Only the Revengerists stand bravely in the defiance of radioactive tidal waves, exploding bullet trains, and totally preventably but idiotically man-made climate change! What will they do with the wretched climate deniers? And how will our heroes fare against an old foe who threatens the worst disaster of all; the eradication of all their beloved fast food, in another devastating chapter of The Crisis on Infinite Erffs!
Date: 2014-04-15 [Listen]
This mighty superteam (Revengerists-class) looks upon the gaping maw of existential dread and ghastly horror, to examine a deadly world of roasted human heads, super-predator tigers , cyclists, and not-so-missing persons. Worst of all, they once again face a fatal foe in the continuing adventures of The Crisis On Infinite Erffs! Their most spine-tingling episode to date... The Death of the Revengerists!
Date: 2014-05-15 [Listen]
Witness the Ritual and Invocation of Bob Coffee as we elevate our former Intern to the full-fledged level of Revengerhood (Revengerism? Revembolism?) due to his inexplicable survival over time as an Intern in the base, and increased Awesomeness due to continued exposure to other Awesomes, a very rare event indeed. Of course, things go horribly awry (as these events tend to do), amidst violent revolutions, digital exorcisms, lazers, and Reptilian overlords. Not to mention the next inevitable chapter of The Crisis On Infinite Erffs: This Time They Just Sit Around! Featuring the one-and-only, Mr. Whipple!
Date: 2014-06-01 [Listen]
As the Revengerists take their Podcast into the Labs™ during renovations, Santa plays with very volatile chemicals, Breshvic's powers are diametrically opposed to most of the physical experiments, and Dr Tasty is a roiling ball of energy ready to burst, (much to the chagrin of Commodore Bob, Der Kirche and El Cocco)! Despite the scientific news of night-vision contact lenses, combat chewing gum and human-skin-bound books, the situation soon devolves despite the more rigorous safety protocols. This week's installment of Crisis on Infinite Erffs isn't the only thing exploding into your earways, leaving destruction and maimed Interns in its wake! Tune in... FOR SCIENCE!
Date: 2014-06-15 [Listen ]
All good things must come to an end; except cockroach-like entities scrambling and fighting against every fresh, new doom on the horizon. And so the Revengerists soldier on despite supervolcanic activity, buffalo extinction, a toddler-murdering negligent father, and worst of all... the loss of thousands of corn dogs. So too ends the critically-defamed series Crisis on Infinite Erffs , not so much with a bang as with a gravity well of egotism. What is left for immortal heroes in a world dying all around them? Find out this week, if you have the heart!
Date: 2014-07-01 [Listen]
The Revengerists take a break from all the cosmic madness and happenstance to return to the regular mayhem of summer. And despite the horrible news of exploding corpses and evil bee rustlers, they take respite by investing in a decomissioned weather-control device, learning how to take a punch from Dr Tasty, and even reading some letters from THE MAIL BAG!!!!!
Date: 2014-07-15 [Listen ]
Our heroes just want to relax and drink shots, discuss current events and create a kick-ass podcast. Even if the news is full of authoritarian religious figures, the oligarchical takeover, the dolphin army they plan to use, and the evils of Sea World, the Revengerists still find the silver linings (and delicious Orca-steaks) therein. But everybody's a critic, including the nascent sentience of artificial intelligence!
Date: 2014-08-01 [Listen]
Ridiculous horror awaits you, with the impending doom of Slender Man, tunnel asphyxia, and the dark sandwich arts! And worst of all, neither Cosmic Gods wielding Omni-Power nor ancient blood cults can prepare you for the mystical time-fuckery of Der Kirche's arcane Origin! Will they escape the non-euclydian madness of centuries, can they defeat cultists and pirates, and will they ever get that wretched stench out? Find out as you delve into the creepy backstory of Der Kirche's initiation into some weird shit or other, I don't know man, ask him. I've listened to it and I still can't make head or tail of it.
Date: 2014-08-15 [Listen]
The Revengerists go out in the field of The Park, U.S.A. to do important research. They discuss important developments such as utilizing awesome bear-power, fart machines, and the raging mosh pits of the Philharmonic. Using a combination of behavioral-modification helmets, mind-control muffins, and unstablemutagens, our heroes defeat some deadly raisins, meddle in the affairs of their listener's lives, all while playing God with the natural fauna.

Date: 2014-09-01 [Listen ]
Have the Revengerists taken leave of their senses!? Why do our heroes believe that they are wacky morning radio DJs, and not the magnificent Awesomes we know them to be? Why are they discussing such inanities as waterslides, missing cookies and the zombie game? Is it an alien virus? Trickster God? Weird goo? One of Der Kirche's mystical spells gone awry? Can El Cocco save his allies from the most despicable disaster ever to befall the team?
Now, with even more sound effects!
Date: 2014-09-15 [Listen]
The gang ponders the mysteries of space this week, whether or not a waterslide will launch you there, and how to punch stupid space jerks in the face. Of more cosmic importance is another surprise installment of Athnony Starfighter's adventures in Fightstar 3 ! Also; hear the superteam give relationship advice in another MAIL BAG segment!
Date: 2014-10-01 [Listen]
The gang investigates spooky creatures from ghosts to gnomes, and commiserate upon the sorry state of modern horror films. As they gather round the fire, will our heroes forever change the landscape of scary storytelling? Who has the most hair-raising tale? Just what is Santa's problem, anyway? This bone-chilling episode of the Revengerists!
Date: 2014-10-31 [Listen]
This episode, Breshvic, Tasty and Der Kirche discuss the seedy black markets of human skin and tiger bones, but before long Breshvic's high-power-allergenic condition gets the better of all of them, and it's anyone's guess where such unrestrained power will take them next. This week's MAIL BAG features illustrious messages from other worlds.
Date: 2014-11-15 [Listen]
The Revengerists are on a stealth mission, it is a secret that may or may not involve Santa. Using their skill-of-a-ninja, they must manuever through ducts (ducks?), sneak past Sinbad, and even find time to destroy all those violent board games , to achieve the holiday consumerist tradition. That is, if they can overcome an overpowered comedian, hoardes of orcs fighting the War on Christmas, battle-crazed elk, and even... each other.
Date: 2014-12-15 [Listen]
2015
The Revengerists (belatedly) ring in the New Year with superior prediction technology! They amaze us with tales of haunted swords, missing brains and mummified mummies! Then witness their clairvoyant artistry using both psychohistorical  and magical concepts! It's not a curse, it's not hammer time, IT'S THE REVENGERISTS PODCAST OF BLOWING STUFF UP!
Date: 2015-01-15 [Listen]
EPISODE 43: Coo-El!
Meat thieves, and killer wedgies, and the glorious leader of North Korea! With dreaded threats such as these in the world, the Revengerists will need all the help they can get. And while they don't often conduct interviews for new members, especially off-worlders with suspicious kin, how can they turn away a fellow Awesome with the power to microwave snacks instantaneously? Hear the stunning introduction of Coo-El!
Date: 2015-02-15 [Listen]
EPISODE 44: Issues!
The Revengerists forgo their formal format in favor of a session of scrying, speculation and political punditry. They look forward to the faraway future of two-thousand-and-ten-and-six, and give superior analysis that is 100% factual and will come to pass exactly as described. Find out if heroes can even die, if an ancient Witch King will win the White House, is there an international carbon conspiracy, who exactly did a 9/11, and just which old lady does Dr Tasty most want to punch in the face?
Find out in another Revengerist podcast for the ages... or rather, the next year or so.
Date: 2015-03-15 [Listen]
Each of our heroes has found a different use for their floating roombaesque microphonic robots, unique to their own idiom. Some for pure research and development of their Awesome abilities and special moves, or for the betterment of mankind, or perhaps for motives twisted and foul, or rather, because they weren't aware the recording was on. Whatever their reasoning, The Revengerists offer a rare glimpse behind the effing curtain of their podcast world and show you how the sausage is made, and then eaten.
Date: 2015-04-15 [Listen]
"The Revengerists Podcast: It's better than silence!"