A Small Pantheon of Lesser but still All-Powerful Gods of Old (its exact number of members is unknown) usually summoned, incanted or called upon by socelators supreme in moments of need, or dark agents of the black arts in their quest to destroy all Norm kind. They also have their annuel "Lounge-a-rang" convention at the Holiday Inn or Ramada, usually to discuss secretive clandestine plans for the fate of the realms and all those mortals dwelling within. Depending on the God you invoke, possibly they will be good or bad. our concepts of morality is so far beneath their notice, our important Galactic issues are like mere dice games to them. It is interesting, then, that they so often are related to everyday superheroing or villainy in the Revengerist Omniverse. They had a Limited Collector's Rim Serious Series Release at K*B Toys Kool*Aid Man Ride Attraction Game entitled "Strange Gods." They rule various dimensions of energy, and were worshipped around the world until their peoples were wiped out by said gods or moved on to destroying themselves with science.
Strange Gods
Name
Epithet(s),
other name(s)
Description
References
Aytoktumuch Ammanassoe
this sad pathetic creature forever doomed in his futile unending inability to see his own obvious affliction
Q
Bramagupta
Late with Rent
a mischievous slacker tiki God primarily worshipped in certain Octagon islands, wears a red striped necktie and reflective shades
OSOTO, GMB, G
Bulgar the Delicious
the Delicious
the erstwhile fertility God lately focusing more on fellatio cults.
P
Ceiling God
Asshole
rains Zebra Cakes upon his foes and friends, confusing them
DoG
Chongo
The Corn Lord
rules a dimension of raw Platonic ideal corn power. Left in a Temple in the barren lands of the Andes the means to channel this power in mortal form on Earth, the creamed bands of Chongo.
TGCIMA
Chu'uck VonderHa'ar
(CPA)
with his brother D'øn and the rest of all his kin, these Cthulhu brood awaken in the 900th Century to battle Jim Vivas
TR, R!
Dragon Lords
Ancient Dragon Lords, Draconians
long, serpentine reptiles that fly and breathe fire, believe themselves superior to all other beings
rpg
Ducksuit Rapist
...
is right behind you.
Bloomfield
Garblon the Laundry Demon
Eater of Socks
Only visible on heat vision, likes to haunt hospitals
KTNS
Jim Vivas
Viking God of Teh Roxorz
From the small village of Ronkonkoma, on the island of Long, this angry Norse holdover and his various volcano, wolf, and lightning powers is a force to be reckoned with.

TR, R!

Prince Lamor
the Sub-Pariner
Ruler of Lamelantis, people seek him out for whenever they need lame powers, which means nobody ever seeks him out.
TGCIMA
Sonny Veil
Darkchild of Space
Non-euclidian creature that lives in space beyond our time and understanding of the thing.
TR
Techuhan Prime
an ancient robotic Aztec warrior god from space.
BB&M
Technoviking!
does not dance to techno music, techno music dances to Technoviking
FP
Topaquaseeuck
possible spelling.
CC2, SS2
Vishnu Mizrahi
Designer God
when you absolutely have to have the latest gods around.

DC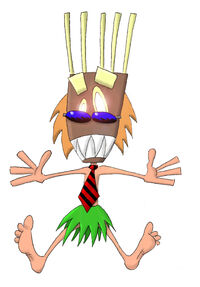 "That is not dead which can eternal lie, And with strange aeons even death may die."
—Abdul Alhazred, The Necronomicon
Community content is available under
CC-BY-SA
unless otherwise noted.